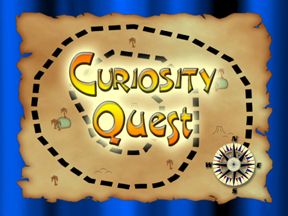 Learning should be fun, don't you think? I think so, and the folks at
Curiosity Quest
think so, too! We were excited to review two DVDs:
DVD Combo Pack – Produce
and
DVD Combo Pack – Swimmers of the Sea
. I was as fascinated by these shows as the kids were.
Curiosity Quest is a show that answers those niggling questions we all have about everyday things. Joel Greene is a fabulous and entertaining host who dives into the types of adventures we'd all love to experience. He takes us inside factories, farms, and salvage yards to learn how it's done. The show airs on some PBS stations, and is available on DVDs. Episodes are approximately 30 minutes each.
Each episode starts with a viewer question, and goes onsite to meet someone with a related occupation. Every few minutes, we are shown a "man on the street" interview segment in which people (often cute kids) answer questions related to the show's subject. This segment is quite entertaining, as some of the people come up with totally off-the-wall answers. There are also a few "Fun Fact" segments thrown in. The show is geared toward kids ages 7-14, but my five-year-old and I both watched them along with my twelve-year-old, and we all loved them. They're funny and informative – quality "edutainment"!
The DVDs are great on their own, or as the starting point to a unit study. You can watch the episode then spend some fun time doing your own research to learn even more! We didn't go that far, but as we watched the videos, we paused several times to google our own questions. Sometimes the questions were answered later in the episode, but we didn't know that when we looked them up. LOL We watched two episodes a day for three days, and one morning, the first thing the five-year-old said when he woke up, was, "Have we watched the orange thing yet?" Which somehow ended up with us googling what vitamins and nutrients are in oranges before we even got out of bed.