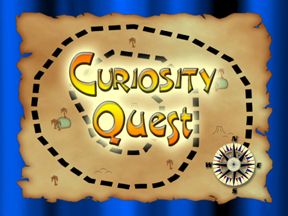 Learning should be fun, don't you think? I think so, and the folks at
Curiosity Quest
think so, too! We were excited to review two DVDs:
DVD Combo Pack – Produce
and
DVD Combo Pack – Swimmers of the Sea
. I was as fascinated by these shows as the kids were.
Curiosity Quest is a show that answers those niggling questions we all have about everyday things. Joel Greene is a fabulous and entertaining host who dives into the types of adventures we'd all love to experience. He takes us inside factories, farms, and salvage yards to learn how it's done. The show airs on some PBS stations, and is available on DVDs. Episodes are approximately 30 minutes each.
Each episode starts with a viewer question, and goes onsite to meet someone with a related occupation. Every few minutes, we are shown a "man on the street" interview segment in which people (often cute kids) answer questions related to the show's subject. This segment is quite entertaining, as some of the people come up with totally off-the-wall answers. There are also a few "Fun Fact" segments thrown in. The show is geared toward kids ages 7-14, but my five-year-old and I both watched them along with my twelve-year-old, and we all loved them. They're funny and informative – quality "edutainment"!
The DVDs are great on their own, or as the starting point to a unit study. You can watch the episode then spend some fun time doing your own research to learn even more! We didn't go that far, but as we watched the videos, we paused several times to google our own questions. Sometimes the questions were answered later in the episode, but we didn't know that when we looked them up. LOL We watched two episodes a day for three days, and one morning, the first thing the five-year-old said when he woke up, was, "Have we watched the orange thing yet?" Which somehow ended up with us googling what vitamins and nutrients are in oranges before we even got out of bed.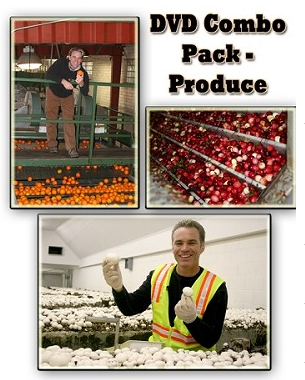 Mushrooms:
We learn the step-by-step process for farming mushrooms. Joel takes his turn harvesting, and comes nowhere near the amazing number of mushrooms that the pros can pick. Fun fact: Any mushroom can be referred to as a toadstool, but the term usually implies a poisonous variety.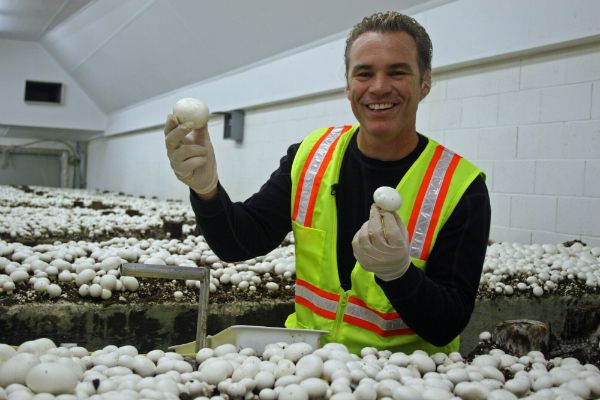 Cranberries:
Cranberries aren't actually grown in all that water we see in the commercials. Learn why the guys in those ads are standing knee-deep in water. We see cranberries from harvest to packaging. Joel goes up against a tractor with his harvesting bucket. You can guess how that turns out. LOL Fun fact: Europeans named the fruit "crane berries" because the blossom looks like the head of a Sandhill Crane.
Oranges: 
Joel visits an orange orchard and packing house, and attempts to pick a bag of oranges. Fun fact: an orange tree can yield 500-1,000 oranges each year.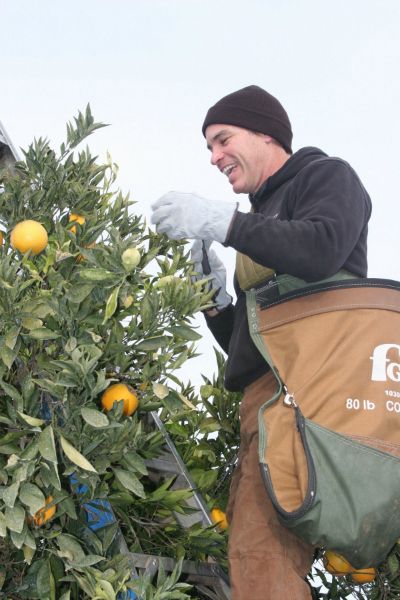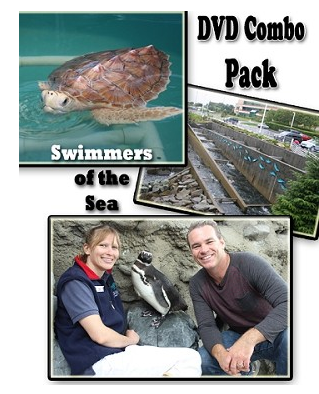 Penguins:
 We learn why penguins can't fly, along with other penguin facts, when Joel visits the Aquarium of the Pacific. (No, not all penguins live in Antarctica.) My only issue with this episode is that one of the viewer questions at the beginning of the episode was "How do penguins care for their young?" yet we never get that information in the show. The only answer is: "That's very interesting! They do that together." Fun fact: Penguins have 100 feathers per square inch.
My five-year-old has a thing for penguins (one of his nicknames is Penguin Boy), so this was his favorite episode.
Sea turtles:
We get to learn about sea turtles with a visit to The Turtle Hospital in Marathon, Florida. Joel gets to feed the turtles squid and other squishy things. This show is a little sad in a way, because we see several turtles who have been injured, and some who have been injured to the extent that they will only ever be able to survive in captivity. It's not sad in a way that will upset the kids, though. One thing we learned is that it's better for wildlife and sea life for fishermen to use steel fishing hooks rather than stainless steel hooks. The regular steel hooks will eventually break down, and cause much less harm to animals. Stainless steel lasts forever and can easily kill an animal. Fun fact: The largest sea turtle is the leatherback, which can weigh as much as 2,000 pounds. That's the size of a small car.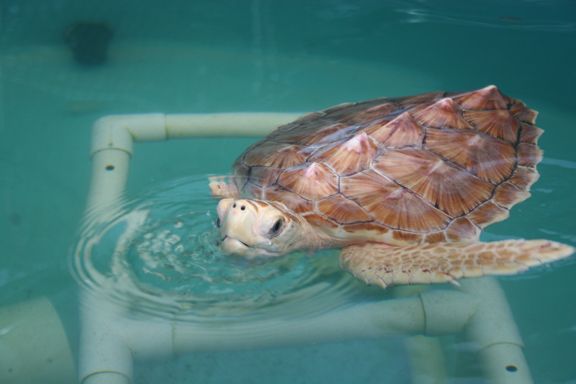 Salmon:
You know that whole "salmon swim upstream" thing? Yeah. Joel heads to Juneau, Alaska  to a river–where he walks barefoot into 49°  water — then to a nearby hatchery to learn about how the eggs are collected, hatched, then distributed to rivers, then oceans, and how they return years later to spawn. Fun fact: Salmon have been known to jump as high as 12 feet in one jump to get to their spawning grounds.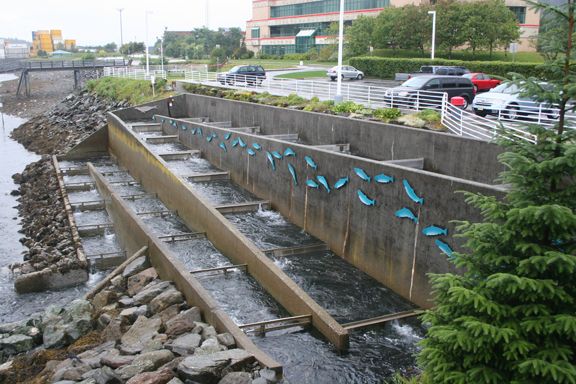 How to get it
The Combo Pack DVDs are available for $24.95 each.
One-episode DVDs are available in many categories (animals, food, sports, and more) for $19.99-$24.95 each.
Become a Curiosity Quest Member and get two great episodes delivered to your door every month for one low price. $19.99
Get a CQ Homeschool Monthly Membership and receive two episodes a month, along with a homeschool curriculum for each episode. $24.99
You can get a sneak peek of some "behind the scenes" footage from Curiosity Quest on Youtube.