I'm going to try not to gush in this review, but it may be difficult, because I was fascinated by the information in this DVD. Understanding Child Brain Development from The Family Hope Center will provide important information for parents of children with special needs of all types, as almost all disabilities are caused by neurological disconnect of some sort.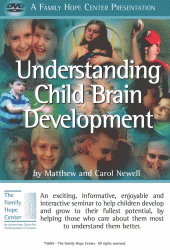 Matthew Newell brings more than 25 years experience with working with brain-damaged children to his work at The Family Hope Center. In this DVD, he teaches parents the how and why behind what are, unfortunately, increasingly common disabilities. The DVD is a tiny bit of a commercial for the services at The Family Hope Center, but that is only a fraction of the DVD. Most of the two hours is used to share important information.
TFHC provides integrated services to help children recover their God-given abilities so they can live full lives. I have at least one child with special needs and I'm keeping a close eye on the other child, so I know that these kids are amazing just as they are. I also know that it is a constant battle to find ways to help them succeed, and there are always concerns about whether he will be able to live independently as an adult. TFHC uses nutrition, hyperbaric oxygen therapy, homeopathy, sensory therapy, and other methods as part of a holistic strategy to improve the child's brain development.
Some of the issues they deal with include:
ADHD/ADD
Autism
Cerebral Palsy
Down Syndrome
Dyslexia
Epilepsy
Hyperactivity
Learning disabilities
Blindness/deafness
In the DVD, Newell explains how each part of the brain is responsible for specific phases of development and how parents can help their children at home at no cost. At the end of the DVD, he gives us a list of ten things we can do for our kids, and only one of them will cost anything. As someone who has been researching autism spectrum "stuff" for almost three years, I did hear some information that I already knew, but most of the information was new to me.
I would highly recommend this DVD to every parent of a child with special needs. I would also recommend it to every expectant mother, because many of the issues can be alleviated, if not eliminated, by beginning good development practices at birth. I know I will be sharing this information with everyone I meet. Okay, maybe not "everyone I meet", but I will definitely be sharing the information.
The only thing that bothered me about the DVD was that I was confused at first when Newell spoke about crawling and creeping. What he calls "crawling", everyone I know calls "army crawling" or "scooting" (although "scooting" is usually used for scooting on their bottoms), and what he calls "creeping" is what everyone else calls "crawling". It's a little confusing, and he doesn't show a picture or explain the difference until he's mentioned both creeping and crawling  numerous times. They have different functions during development, so it's important to know which he's talking about.
How to get it
To order the DVD, please call 610-397-1737 or you can order Understanding Child Brain Development from IEW. $19