I'm so excited to be a part of The Old Schoolhouse Review Crew for 2013! Not only will I have the chance to try out some great curriculum options, but I get to tell you all about them so you can make informed choices for your family. I can't wait to see what the year holds for us! My first review is for SchoolhouseTeachers.com, so let's go!
SchoolhouseTeachers.com is a homeschooling parent's dream website. With more than 25 subjects ranging from Pre-K to high school, every family can find something that works for them. Brought to us by The Old Schoolhouse Magazine, this site is a fabulous resource. Depending on the subject, you can use daily, weekly, or monthly lesson plans to put together a full curriculum for your student or just pick one or two subjects to supplement your regular lessons. Or you can do what we're doing and just pick out the subjects that look fun and do the lessons for those. 😉
My four-year-old just recently declared his interest in reading and writing. Wait. That's not true. He told me he wanted to learn to read several months ago because there was a video game he couldn't play without being able to read. What has happened recently is that he is finally able to distinguish look-alike letters (b,d,p,q) from others so he isn't as frustrated trying to put words together. And he's started writing. A bit. When he's in the mood. So when I saw the Pre-K Spelling lessons on SchoolhouseTeachers.com, I was excited to find short, easy lessons that were just long enough to give him some practice but not so long that he would lose interest. I wasn't going to push the writing, though, so we used the sandpaper letter blocks/panels that he uses to tell the letters apart.
He used the panels to spell the words, then traced letters with his fingers as part of the whole word.
There are also Read and Play Activities specifically for Pre-K and other lessons that can be used with your little ones, such as Lapboarding.
My older son is in 5th grade, but has actually finished all of his current 5th grade curriculum, so I was concerned that we may not find anything that would interest him or that I would have to go up to 6th grade to find him something. I'm not opposed to him "working ahead", but I also have no problem with him exploring extra subjects now that his regular curriculum is complete. And, oh, did he find something interesting. I may never get him off the computer. What could possibly be that fascinating to an eleven-year-old boy?
Fun science experiments using household items – He wants to do all the experiments and he sat and watched all the videos. Twice.
French – He loves languages. He's taken introductory Spanish and Latin and was supposed to take French this year, but that fell through. Now we can use this French course.
Spanish
Geography – The boy loves maps and enjoys learning about different places.
Astronomy – He's excited to learn more about the planets.
Everyday Explorers series – This is actually three different courses: Australia & New Zealand, Canada, and USA. Just go see what I wrote about Geography. He's very excited to start these.
This Month's Menu – Oh, boy. Recipes. My child has inherited his mother's fascination with food. He can sit for hours and read a cookbook or recipe site. He's already picked out several recipes he wants us to try from this list. I told him we'd try one new recipe a week.
Other courses for elementary-age kids include Math, Writing, Literature, History, Guitar, Reading, Grammar, and Spelling. Whether you're looking for "the three R's" or just some fun ways to learn, you'll find it here.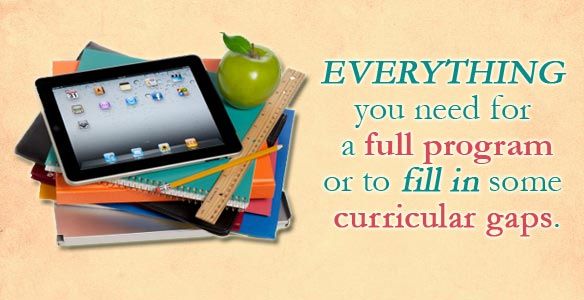 Older students aren't left out, though. There are 25 courses for middle-schoolers and high-schoolers, such as Chemistry, Economics, Writing, Filmmaking, French, Geography, History, Home Economics, Logic, Media Socialization, Physics, Science, and more.
And let's not forget all the goodies for us parents!
Monthly printable course checklists

Archived lessons
Information on special needs students, such as how to recognize learning disabilities and how to modify for them
Monthly reading list, printable and sorted into age groups
Digital back-issues of TOS Magazine
Nine digital supplemental issues of TOS Magazine (Guide to Examining Curriculum, Homeschooling with Confidence, Are Public Schools an Option?, and more)
Recorded sessions of Schoolhouse EXPO (Exploring the Earth and Sky, Strengthening the Homeschool Marriage and Family, Art and Art History, and more)
Five different printable planners for you and your students: Schoolhouse Planner, Special Learners Schoolhouse Planner, Primary Schoolhouse Planner, Intermediate Schoolhouse Planner, High School Schoolhouse Planner
Monthly bonus ebooks


Forgive me for a minute while I go all "infomercial" on you.
But wait! There's more!
While Supplies Last… FREE Tote Bag and PRINT Magazine with New (and Renewing) One-Year Memberships
The special pricing includes a 1-year membership for only $49 (regular price – $64.26)!
Disclaimer: I received a free subscription to SchoolhouseTeachers.com as part of my membership on the TOS Review Crew. My review is completely my opinion and was not influenced by anyone. I was not required to write a positive review as a condition of receiving this product.
Notice of affliate relationship: Links to SchoolhouseTeachers.com are affiliate links. I will receive compensation for any purchase made through these links. This does not influence my review, as my relationship with my readers is more important than any money I might make by endorsing a product I do not believe in.