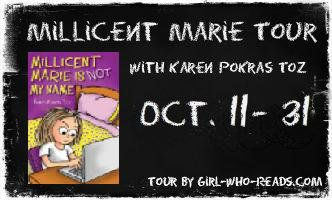 Today is the day – the official launch of Millicent Marie is NOT my Name by Karen Pokras Toz! To kick things off you are invited to a Twitter Party. Join award winning children's author Karen Pokras Toz at 10 am, 11, am, and Noon EST and then again at 10 pm, 11 pm, and Midnight EST for 30 minutes of chatting, fun, and prizes.
The easiest way to join the conversation is with tweetchat.com. Login with your Twitter account, then enter #MillicentMarie to join the room.
The Twitter Party is just the beginning of the fun. Karen will be on tour for the next 21 days. Check out the full schedule here.
I'll be posting my review shortly, but I wanted to get this information out to you so you can plan to attend the Twitter party! Continue reading →