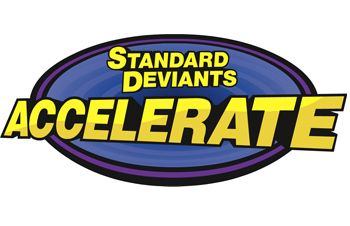 Today, we're reviewing the U.S. History course from
Standard Deviants Accelerate Homeschool Courses
offered by–you guessed it–
Standard Deviants Accelerate
.
SDA Homeschool Courses provide a year's worth of supplemental content for fourteen different courses for middle- and high-schoolers. SDA is completely online, and uses interesting videos to teach students in a way that they actually enjoy.
Subjects offered include:
Algebra
Arithmetic
Fundamental Math
Biology
Chemistry
Earth Science
Nutrition
U.S. History
English Composition
AP Biology
AP Chemistry
AP American Government
AP U.S. History
AP English Composition
Though I can't wait to get into a few of the subjects myself, the only thing Jack used during this review period was U.S. History. Our goal was to work every day, but with our schedule that turned out to be more like three days a week. Still, doing a lesson a day, he finished the course. As it's a year's worth of supplemental material, I suspect that one lesson a day may not be the recommended "dosage".
Chapters include:
American Presidents
Women's Movement
Civil Reform
America at War
Economic Changes
Each chapter has 3-4 lessons, and includes a pre-assessment activity (so you can get an idea of what you already know), videos (complete with the ability to type and save notes inside the lesson for printing later), vocabulary, drag and drop diagrams for review, multiple-choice quizzes, and "written answer" segments.
The student can not take the post-test for the chapter unless he has successfully completed all the quizzes for the chapter. (We found that out the hard way.)  The student takes the quiz and saves his answers. Then he can go back and review the quiz. If he has a wrong answer, there will be a link to the video, so he can just click to review (or re-view). This, of course, is a long way of saying that SDA is a mastery program. There are no grades given. If you use grades in your homeschool, you can use the progress reports in your teacher dashboard to determine the grades.
There is a rubric included in the teacher section for grading written answers. Teachers/parents also have the option of customizing the rubric.
The support for parents is fabulous. They offer webinars (which I must admit I never watched) to teach parents how to use all the goodies included. There is also this magical page on their site full of great videos to help.
Also cool is that you can take the course through your parent/teacher account. It won't save your answers, and you won't be evaluated, but you don't need to be tested to learn! 🙂
Jack enjoyed using SDA. He did find it annoying that a different voice read each paragraph, but he liked that the voices had personality and it didn't sound like a computer or robot was reading the text. He also liked that the text was included so he could read along, rather than just listening to someone read to him. (You also have the option of printing the transcript for each video, but we didn't do that.)
How to get it
Core subjects: 1 subject for 1 student – $99/year or $24.95/month
AP Courses: 1 subject for 1 student – $14.95/month