Most younger kids love music, and my six-year-old certainly does, so reviewing
Happy Kids Songs
was a lot of fun for us. We received three sets of songs:
Friends & Sharing
,
Happiness & Attitude
, and
Manners & Character
. There are a total of seven sets, with other titles such as
Social Skills & Bullying
,
Feelings & Fears
,
Practice & Success
,
Talking & Listening
, and
Respect & Responsibility
.
We also received the Happy Kids Songs Workbook, which includes lyrics and activities for every song in the entire collection. When you purchase a download, you will also get access to free pages you can download for those songs. This is the same content that is in the Workbook. The Workbook is just all of those free pages (122) pre-printed and bound for you.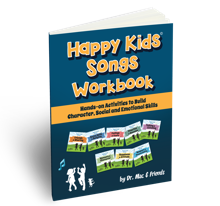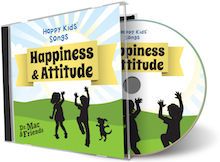 Happiness & Attitude includes:
 "Shake It Out and Dance" – From "I can't" to "I can" ~ The only thing my 6yo got out of this song was "I can't". It was hard for me to hear anything else in the chorus, as well.
"Who Knows What's a Kudo" – Giving compliments ~ Possibly we need to all get our hearing checked, because all three of us thought the first line was "I like how you smell". Turns out it's actually, "I like how you spell".
"I Don't Understand" – Handling limitations ~ This isn't talking about arbitrary limitations, but things like why birds can fly and people can't. It's cute and catchy, and Blake is has been singing it since I started writing this review.
"Be Good to Yourself" – Pathways to happiness ~ This song has a great message about being kind to everyone including yourself. We all need that reminder.
"Better Together" – Being together and apart ~ This is about being okay with being alone, but preferring to play with a friend.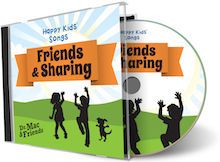 Friends & Sharing includes:
"Sailing on the Seven Cs" – Ingredients of friendship ~ Not really catchy, but still fun to listen to. Jack (12) took a few minutes to realize that, "Oh! They actually mean Cs!" LOL He never saw the title; he just heard the lyrics. And Blake exclaimed, "The good ship of friends! Like friendship!" My children are easily amused. Blake did get excited when we heard the song the first time after we had completed that page in the workbook. "I spelled those words!"
"Everybody Wants to Find a Friend" – Reaching out to others ~ I catch myself singing the chorus to this one quite often.
"Sharing Friends" – Including others in play ~ This song isn't technically about bullying, but it can be, because it's about leaving people out for no reason.
"Happy as Happy Can Be" – Being happy with a friend ~ This wasn't a song that we particularly liked or disliked.
"Together" – 

Sharing time/saying goodbye – We didn't do every activity in the Workbook, but we did go over all the song lyrics, and it helped Blake to actually realize what some of the songs were saying. The next time we got in the car after reading the lyrics to this song, Blake said, "This is the song we did yesterday!"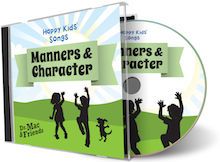 Manners & Character includes:
"H-o-n-e-s-t-y" – The value of honesty ~ This one is spoken more than sung, and it's a little harder to catch all the words. The chorus is very catchy, though, and I find myself singing/spelling "H-o-n-e-s-t-y" a lot.
"The Magic Word" – Learning manners ~ Apparently "abracadabra" is not the correct magic word.
"Quirks" – Appreciating differences ~ This is an odd little song, but it's fun.
"The Golden Rule" – Consideration for others ~ An "old west" version of "If you can't say something nice, don't say anything."
"Six Little Kids" – Honoring other perspectives ~ I had read another version of this (probably several times over the years), but my kids thought this was weird. First I had to explain to them what the point of the song was (everyone has a different perspective), and then they couldn't get past the third line, which is, "And they closed their eyes to see what it is".
I put the songs on a CD and we listened to it in the car for a few weeks. The 6yo loved it. The 12yo didn't. As the target ages for these songs is 4-8, that's not really surprising. Over all, the songs are catchy and fun. You probably don't want to listen to them on repeat for several weeks like we did, but they're okay, especially for kids' songs.
My respectful parenting friends will probably like these, too. I was worried that they might be overly…arbitrary may be the word I'm looking for… but the songs we listened to were all just basic manners. You can listen to samples of all the songs on the website and read more about Dr. Mac there.
How to get it
You can order the songs individually (99 cents), or buy an album of 5 songs ($4.95).
The Workbook is $12.56. (You can also print the pages out for free for the individual albums you purchase.)