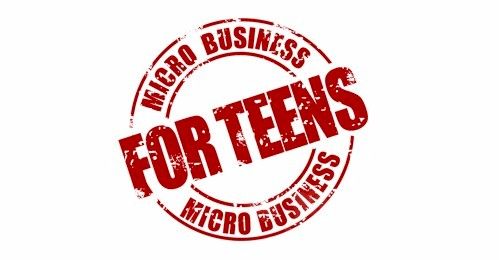 Today we're reviewing
Starting a Micro Business
,
Running a Micro Business
, and
Micro Business for Teens Workbook
from
Micro Business for Teens
.
Carol Topp is a Certified Public Accountant who wanted something to help her teens learn about planning and managing a business. When she couldn't find anything she was happy with, she wrote the book herself. As someone who has read way too many small business/marketing/bookkeeping books and/or websites, I was very impressed with the way the information was presented. Most of it was not new to me, but it was definitely written in a way that was easy to understand, and I even picked up a few new ideas.
Now, it's Micro Business for Teens (or pre-teens, ages 10-18), so of course, my twelve-year-old read the books. He's been asking for years what he can do to make money and I really didn't have any good ideas for him, partly because of his age, partly because of our location, and partly because of his OCD-induced preference for staying clean. (It's hard to do yardwork and stay clean.)
First, I'll go through my impressions of the books as I read them. Then I'll have an interview with Jack about his thoughts. The suggested pace for the books is one chapter a week. My son read one chapter a day, although that was spread out over five weeks, rather than the three it would have been had he read one each day. I think it would depend on what actions your child is taking as they complete each chapter. We're still in the early planning stages since he didn't see anything that jumped out at him as a business he wanted to start right away. (Although there were a couple of things he's thinking about.)
 Starting a Micro Business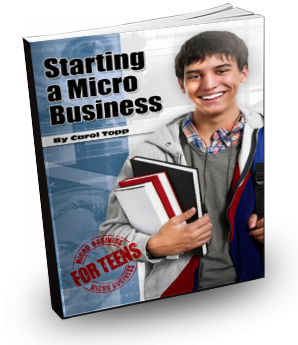 Starting a Micro Business is a fabulous planning guide. Topp provides more than just a list of suggestions for businesses. She also has websites and books so teens can fully research an idea and learn more about education (CPR classes for babysitting, for example) or how to find out what the laws are regarding a specific business in their area.
Rather than talking about getting SBA loans (which teens can't do anyway) or opening ridiculously time-consuming businesses (like a restaurant), this book is specifically geared toward teens and their (usual) limitations of time, money, and transportation. Topp emphasizes starting without debt, so discourages loans of any type. Rather she suggests getting  a temporary job, selling something you don't use, or starting a smaller micro business to earn the few hundred dollars you may need to purchase supplies or inventory.
It's as well put-together and informative as any business book I've read. She emphasizes that teens don't have to be "entrepreneurs" — which are commonly thought of as risk-takers or ground-breakers — to start a micro business and earn some extra money. Learning about business, life, and money is at least as important, if not more so, than actually making money. The book even includes an easy-to-understand business plan template suited to a micro business, rather than some of the plans I've seen demonstrated that are overwhelming.
My only problem with the book is that some of the examples in the sidebars are repetitive. The point seems to be to emphasize different aspects of the businesses, but I don't see enough difference to make it advantageous to share twice.
"Lucas Rice bought his first riding lawn mower at a garage sale when he was 12 with savings from a paper route. As his business grew, he slowly bought more equipment. "Allow your business to grow, and then grow your equipment into your business," he advises."
Then:
" "Allow your business to grow, and then grow your equipment into your business," says Lucas Rice, a teen micro business owner. He started his lawn mowing business with a riding mower at age 12, and as his customer base grew, he bought more equipment."
Running a Micro Business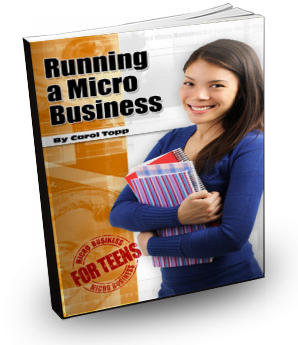 Running a Micro Business
gets to the "nitty-gritty" of running a business, such as marketing, customer service, bookkeeping, and time management. The ideas are free or low-cost and realistic for a teen or young adult as a sole proprietor. So many marketing books I've read are aimed at "small businesses" (a small business is classified as having fewer than 2,500 employees!) and would overwhelm most teens. I learned from the book and will be referring back to it as a business owner. Did you know Quickbooks has a free version? I had no idea. Of course, that would be more helpful to me personally — and my son — if Quickbooks and I didn't have an understanding (or a misunderstanding, really). Although I'm sure, if necessary, he could figure it out in no time. Because kids love to be smarter than their parents.
Jack wasn't as interested in this book (although he did read the whole thing) because he's still in the planning stages, so this information seemed more abstract to him, but at least now he knows it's there, and he knows where to go for more information when he's ready.
I did notice a few typos or missing words (a drawback of my own business) that were a little distracting, but didn't detract from the abundance of information.
Micro Business Workbook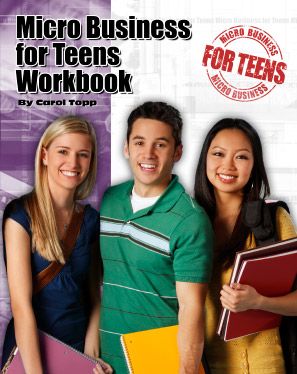 The workbook includes space for taking notes and brainstorming ideas that come from the other two books, but it's not just regurgitating information from the books. It includes room and prompts to write a business plan, sample invoice template, time management spreadsheet, and even talks about encouragement and finding a role model.
The workbook (indeed the whole set of books) can be used individually or with a group. Suggested pacing is one chapter a week, which would take about 14 weeks to complete.
The Micro Business For Teens website is also a fabulous secondary resource.
Interview with Jack (12).

M: Did you learn anything from these books?

J: I learned that you need licenses for some things, like baking. I learned that a business card shouldn't have more than two fonts. I learned you should save money beforehand to buy supplies. I learned about EINs.

Me: Fonts. Okay. Did you find any new ideas for a business? Was there something that interested you?

J: Well, I've always been interested in babysitting; I can take a babysitting course. Dog walking and/or making dog biscuits sounds fun. We can find recipes online.

M: What did you think of the books. Did you like them?

J: The first book was really interesting. The second book was boring.

M: Would you recommend this to other kids your age who are interested in making money?

J: Yes. I'm Jack and I approved this message.
How to get it
Starting a Micro Business Paperback – $9.95, Ebook (PDF or Kindle) – $4.95
Running a Micro Business Paperback – $9.95, Ebook (PDF) – $4.95
Micro Business for Teens Workbook Paperback – $14.95, Ebook (PDF) – $9.95