Looking for a fun way for you or your kids to learn a new language? Today's review is for you!
Mango Homeschool Edition
from
Mango Languages
teaches foreign languages in a conversational, easy-to-learn format.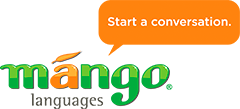 Mango Homeschool offers 60 languages, as well as ESL courses. One of the great things about the homeschool edition is that students can access multiple languages at one time. So you can learn more than one (if your brain doesn't explode – mine probably would), or you can learn one, then continue to have access to it while you learn another. I think this would be a fun way to compare languages or cultures. (We haven't gotten that far yet.)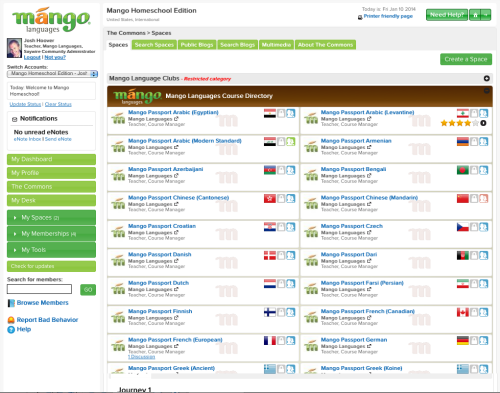 Mango Homeschool is designed to teach speaking, and will teach reading by default as you move through the program. It's not meant to teach writing, although most of the courses have a file that you can print. This file includes cultural notes, as well as language notes. If you wanted your child to learn to write the language, you could have them do copy work from the file. This would probably also enhance the learning, as some people remember things better if they write them down. Aside from the file you have the option to print, the entire course is online, and is designed to work on any computer and any browser.
My 6th-grader chose to study Korean. Every day, he does one lesson, and he comes to me excited almost every day, telling me what new things he learned. The past few days, he's been learning numbers, and can now count to nineteen. Today, he learned that there are different names for numbers depending on whether you're counting or talking about currency. He's concerned that he won't remember the different names. I think he'll be okay. He's previously dabbled in both Spanish and Latin, so I expect when he finishes Korean, he'll move on to yet another language.
I took both Spanish and French in high school (back when my brain was younger), and I wanted to use Mango to brush up on those languages and possibly try my hand at one or two others. I haven't spent as much time with the program as my son has, but I have done enough Spanish to know that I remember…some things. LOL
Mango uses a conversational style of learning, rather than the memorization of vocabulary that was used when I learned languages. This product is suitable for ages 6+, and don't be surprised if your kids are speaking a new language before you catch up.
Each language includes:
Audio and pronunciation guidance from native speakers
Grammar notes
Voice comparison tool
Conversation and grammar goals
Cultural insights, etiquette, and customs
Phonetic spelling on-demand
Most of the languages have three "Journeys" or sections. Korean only has one (currently). The first Journey includes:
Greetings, Gratitude, Goodbye
Inquiring about Someone's Nationality
Asking What Language Someone Speaks
Names and Introductions
Getting Around
Shopping and Payment
Drinks and Dining
 Numbers and Currency
Getting Help
Asking for Clarification
Each language also has forum in which students can ask questions of each other and (eventually) those who are native speakers or fluent in the language. (Homeschool is  a new market for Mango, and some parts of the program are still in development. I'll devote more time to that below.)
Mango has been in existence for about seven years. They started with public library courses, and now have courses for public schools and corporate clients. Mango may be available in your library, so you might be wondering what the differences are.
The major differences between the library version and the homeschool version:
⁃   public libraries only have one level of any given language
⁃   homeschooling has all levels and all languages
⁃   homeschooling has the community features (forums and such)
Because the Homeschool product is still in development, there are several new features in the pipeline, with some to be released as early as May. I already love the program, and I'm excited to see how it all comes together!
Here's a quick rundown of what's currently available and the new features they're working on.
What is currently available on the site:
Over 60 different languages

Progress Assessments


Built-in journals, discussions and wikis

Collaborative learning spaces

eNote messaging
/chat rooms


Access to embedded/downloadable content


Support from other community members


Calendars to schedule meetings or study groups
Coming soon:
Enhanced Tracking and Progress Monitoring – including seat time (for students and parents)

Goals and Personal Lesson Plans (both stand-alone and tied into Mango courses)


Resume and Portfolio Builder
So what did my 6th-grader think of Mango Homeschool?
"I like it. I like it better than the other program I used." (When he was enrolled in a charter school.)
There was nothing he didn't like about it, and he wants to continue using it. When asked what he found cool: "I found it interesting that words like "I" aren't used. You're supposed to understand those from the context. And "Hi" is like a five-syllable word and "tomorrow" is a short word."
How to get it
Pricing is per student. Parents will be able to monitor their children's accounts, but if parents want to learn a new language (or two) as well, they will need a "student" account.
1 subscription is $18/month or $125/year total
2 subscriptions is $28/month or $175 /year total
3 subscriptions is $38/month or $225/year total
4 subscriptions is $48/month or $275/year total
5 subscriptions is $58/month or $325/year total
Anything over 6 subscriptions is a special group rate that will depend on the number in the group.
*This is introductory pricing and is current at the time of posting.