Today's review is for a fun math practice website, IXL.com. IXL does also have a Language Arts program, but it's only for second-fourth grades, so we didn't use it.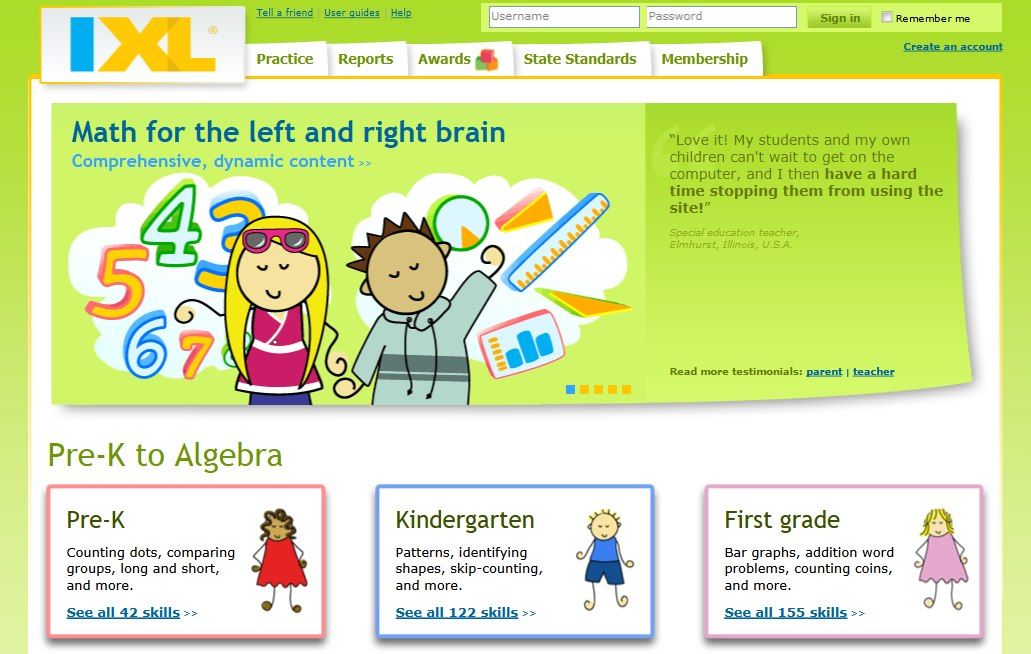 IXL is not so much a learning program as it is a practice program. Each level, Pre-K through eighth grade, plus Geometry, Algebra, and Algebra II, is based on state standards, so this could be a fun way to make sure your kids are ready for standardized tests, as many states require these for homeschoolers. If your child is in public school, IXL is a fun change from worksheets and textbooks. Help relieve the "test stress" by letting them play a little.
Okay, so maybe Algebra isn't fun. But being in the computer is always more interesting that a text book, now isn't it?
I have a Kindergartener and a sixth-grader. We're pretty relaxed here, but our state does require standardized tests every three years, so I thought this program would be a good way to see what the kids know. We actually had a lot of fun with it.  My twelve-year-old started out in higher grades, but got frustrated because he didn't see any point in just answering questions. This probably works much better if you use a math curriculum of some sort. He's not accustomed to just answering questions.
So we found a way to make it fun. The little one wanted to start at Pre-K and work his way up. So I had his brother start at Pre-K and they started a competition to see who could finish more practices each week and get farther ahead. Yes, the big one was way ahead of Pre-K level, but he started it later than his brother, so he had a handicap going in.
IXL emails reports at milestones, as well as a weekly report for the whole family. With each milestone, you can print out a certificate. We didn't, partly because I just found the "View certificate" button that is front and center on the emailed graphic, and partly because we're not really into that kind of thing.
IXL doesn't have lessons. The child answers questions in selected categories, and if he gets the answer wrong, there is a quick explanation for the correct answer. It's more a way to review and reinforce than to teach.
The kids each worked on three skills each day. My sixth-grader did it on his own, and the little one did for a while. When he got to the point at which he didn't know how to do the practices, he would sit on my lap in front of the computer and I would explain to him how to do that particular practice, I'd make him notes if necessary, and we'd walk through the practice together. I never gave him any answers, but he knew I was right here if he had a question, and as he got farther into the category, he gained confidence. His reading is pretty good, but through first grade, students can have the questions and answers read to them by pushing a button.
One thing that the little one loved, but the big one didn't care about was the "awards" for milestones. The kids get virtual prizes for completing a certain number of skills and completing several skills (usually three) in a category.
My little one is so excited about IXL that the first thing he told me one morning when he woke up was how he was going to do all the levels. I asked him if he'd tell me again so I could record it. He is rather ambitious.  And he got a little wound up there at the end. LOL
IXL only goes up to eighth grade. As I said, he's a little enthusiastic. LOL
The only problems we had were while doing the "A.M. and P.M." category. One of the questions was something like, "You're waiting to catch the bus to go to school. Is it A.M. or P.M.?" This is a child who gives people strange looks when they ask if he's in Kindergarten because he doesn't know what Kindergarten is. I had to tell him, "That means it's morning." LOL
We did have several days on which the program would run slower, so slow that we would think the page was frozen, but it would suddenly start up again, and no information was lost. The kids never had to do any categories over because of that. I honestly don't know if it was our computer or the website, but as it only happened on the site, I'm assuming it had something to do with it.
(And in case you're wondering, the little one is still a little bit ahead in the competition.;-) )
How to get it
IXL can be used for free, up to a point. You can practice twenty questions each day, and it doesn't save your progress.
Monthly Plan $9.95/month
Yearly Plan $79/year
Each additional child costs $2/month or $20/year.
There is also an iPad app. Conditions of use are the same as for the website.