Today's review is for Exploring Creation with Chemistry and Physics from Apologia Educational Ministries. Exploring Creation with Chemistry and Physics is a homeschool science curriculum for K-6 grades. As with all Apologia resources, this is a Christian curriculum, teaching that God made everything in the universe, while teaching about things like atoms, molecules, simple chemicals, laws of motion, electricity, magnetism, and simple machines.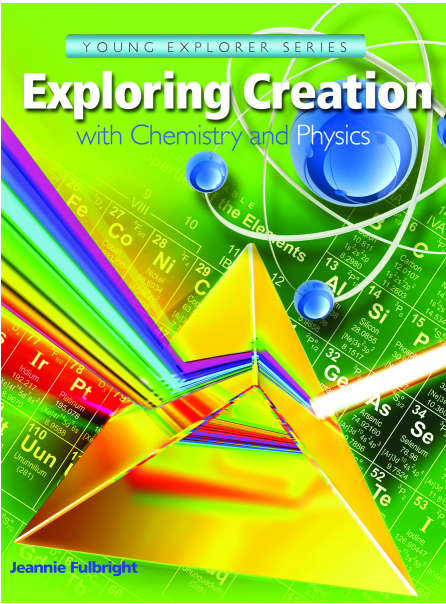 The textbook has fourteen lessons, which each lesson taking approximately two weeks each, depending on how your family chooses to work with the book.  The Chemistry and Physics Notebooking Notebooking Journal and Junior Notebooking Journals include suggested schedules. We didn't really use the lesson plans, but I let my sixth grader read at his own pace, and we still went through a lesson every two weeks, with him reading a few pages every day on his own.
The book is written in a conversational style that's easy for elementary-aged kids to understand, then provides several opportunities throughout each lesson for students to orally communicate what they have learned. The Notebooking Journals can be purchased separately, and give students a way to write or draw what they've learned.  The Junior Journal is for younger children or for those with lower writing levels. My sixth grader is using the Junior Journal because he has physical issues that make it hard for him to write. Activities include coloring pages, simple copywork, mini-books, and vocabulary puzzles. The Junior Journal also has book suggestions for each lesson so you can find books at your library to supplement the textbook.
The Notebooking Journal is for older students, and includes more advanced copywork, vocabulary, and other activities as well as review questions and note-taking pages. If you have more than one student, you can work with multiple ages at the same time using the textbook and, if you use the Journals, one for each child, geared to their age and abilities.
The textbook is also full of "Try This" experiments so kids can have fun learning about science. Most use items you will already have around the house. You can find a supply list at the back of the book, divided by lesson. This list is also available on the Apologia website. You can also see a sample of the textbook, along with the Table of Contents, here. They're available as PDF downloads. You can also download sample pages of the Notebooking Journal and the Junior Notebooking Journal.
There is also a supplemental website that includes resources mentioned in the text, as well as links to additional resources.
If you are a Christian homeschooling family looking for a God-honoring science resource, this is both a fun and educational option.
How to get it
Junior Notebooking Journal $24
Exploring Creation with Chemistry & Physics Notebooking Journal $24