We had so much fun with this product and I'm so excited to review it! The Kidcoder Web Series from Homeschool Programming provides step-by-step instructions to teach kids how to build their own website. The lessons are self-paced, and fun and easy to follow. The KidCoder Web Series is made for kids 4th-12th grades. My son is an upcoming 6th grader and it was perfect for him.
He did get frustrated at first because they provide background information about the internet, and he wanted to jump right into making a webpage. I told him that kids are coming into this with different levels of knowledge and the writers want to make sure everyone understands what the internet is and how it works. Once actually got started coding, and realized that he could use the information he was learning to build a webpage about anything he wanted, he got really excited. And you should have seen him light up when he saw that first word show up on his new web page!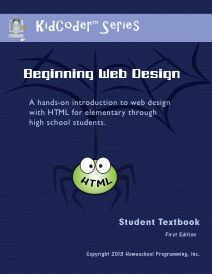 I've been working with HTML for almost twenty years, and it was fun watching him catch on to each new step, and listening to him avidly explain to me how to change font size or color, or add a link to the page. One thing he learned that I still haven't mastered is CSS. I may have to "borrow" his program and do that lesson for myself….
He spent a lot of time experimenting with changing things around to see what would happen.
"What happens if I take out a letter?"
"Try it and see."
"What happens if I type 'blue' instead of 'red'?"
"Try it and see."
He would remove things, add things, move things around. It was fun watching him learn what would work and what wouldn't. He even added a special message for his little brother on his birthday.
The KidCoder Web Series comes in two parts. The first semester is Beginning Web Design and teaches basic HTML (which includes CSS).  Advanced Web Design, the second semester, teaches HTML5, CSS3, and JavaScript. You can purchase them separately, or get a discount by buying them as a unit. You can also purchase access to instructional videos.
Homeschool Programming also has a KidCoder Visual Basic course, a TeenCoder C# course, and a TeenCoder Java series.
How to get it
KidCoder Beginning Web Design (Course only )$70 
KidCoder Beginning Web Design (Course and video) $85 (Available August 2013)
KidCoder: Beginning Web Design (Video Only) $20 (Available August 2013)