Jeffrey has long been interested in maps, so he was excited to get Geography I from Memoria Press to review. Geography I covers the Middle East, North Africa, and Europe. The course includes a Textbook, a Student Workbook, and a Teacher's Guide. You'll also receive a United States States and Capitals Review Student Workbook and Teacher's Guide. Jeffrey was excited that he knew about half of the state capitals although he's never studied them. He knows all of them now. 😉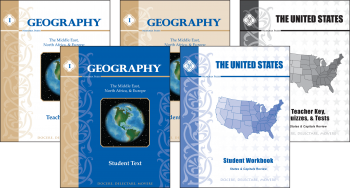 The Student Text includes facts and a map for each country, as well as a section with the full-color flags of each of the 43 countries.  The workbook has a page for each country. The student is asked to name the capital, a few facts they found interesting, and to label a map of the country and surrounding areas. Jeffrey learned about one country each day, although the recommendation is 2-3 countries each week. He liked that the map section for each country showed the countries immediately surrounding, so he could get an idea of the orientation of each.
He was excited to learn interesting facts, such as:
There was a war between Iraq and Iran

The Red Cross was founded by a Swede
Mozart was Austrian
We loved the course, and it seems to be an easy way for students in grades 4+ to learn geography facts. With only one page per country, they're not bogged down with a lot of extra information.
How to get it
You can get the Fourth Grade Geography Set for $48. You can see the Table of Contents and sample pages here.