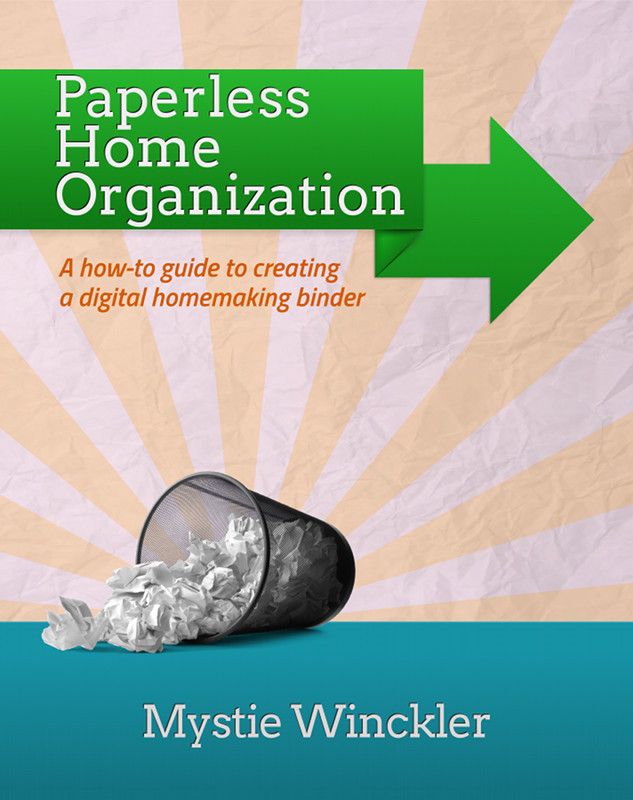 Today's review is for Paperless Home Organization by Mystie Winckler, owner of Simplified Pantry. Mystie has also written two cookbooks, Simplified Dinners and Simplified Dinners Gluten-Free/Dairy-Free. The cookbooks are great, but I was intrigued by the idea of a system that didn't involve a binder or day planner. I've been there and done that, and it just doesn't work for me.
Like many people, I've tried numerous organization and calendar systems. I've had expensive day planners; I've tried putting everything in a binder. I recently tried getting a smaller day planner that only allowed me space to write five items on each day, with the thought that this would keep me from overwhelming myself with to-do items that never actually got done. Instead, I overwhelmed myself with remember to write a list in the planner every day. The only thing that I have ever been able to maintain is keeping to-do lists in Evernote and my calendar on Google calendar. Imagine my delight in finding that Mystie's system uses both of those apps, along with Remember the Milk (RTM). I could learn new tricks without revamping my whole system!
What I learned was that I was not utilizing Evernote to its full potential. Not even close. Adding RTM to the mix pulls everything together. Using Google calendar for appointments, Evernote for documents and notes, and RTM for tasks, Mystie teaches us how to integrate all three programs for a complete home organization system that is always at your fingertips on your phone, tablet, or computer. I'm still learning and trying to build the habits needed to take full advantage of this idea, but I'm already far ahead of where I was.
You can download a sample of Paperless Home Organization and be as amazed as I was. Her GF cookbook is full of great ideas, too, but my super-picky children will not allow me to try anything new, so I wasn't able to play with it. There is nothing weird in it; we just eat the same seven meals over and over (and over) here. You can see the list of recipes here.
How to get it
Paperless Home Organization Available in PDF or Kindle format $3.99
Simplified Dinners PDF (you can download a sample on the product page) $12.99
Simplified Dinners Gluten-Free/Dairy-Free PDF $12.99
If you purchase both Paperless Home Organization and Simplified Dinners, you'll find instructions in PHO for emailing Mystie for a meal-planning Evernote stack.
Coupon code: Enter  TOS2013 at checkout to receive a 30% discount. That discount will work on any or all of Mystie's eBooks, from May 20 through June 3rd.