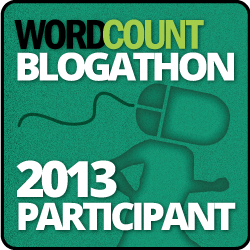 Yes, I have gone insane. Thanks for asking. After barely making it through the A-Z Challenge in April, I have decided to take on another blogging challenge in June. The WordCount Blogathon encourages bloggers, authors, and freelance writers to write every day in the month of June. The idea, as with all of these challenges, is to get us writing, and get over the worry that everything we write isn't perfect. Of course, there is an added bonus, in that when you're writing on a regular basis, your writing will improve. So, a little closer to the ever-elusive perfection for which we all strive.
I didn't sign up right away. I learned about this on the last day of April, and it took me until May 9 to register. I know. I'm a sucker. It gets better. On May 15 (I don't have all these dates memorized. I looked them up. The Internet is forever.) I was resting, trying to get rid of a headache, when my brain –which apparently goes into overdrive when my head hits the pillow — got a great idea. What if I publish a post a day for each of my four blogs! I blamed the headache, but my friends and I quickly determined that I had moved past the need for Tylenol and had zoomed right into "strong drink" territory.
After pondering and plotting for a few days, I decided that this wasn't a viable option for two reasons:
1) While I have enough ideas and books to review to keep me going on this blog and My Other Book Blog, I couldn't think of 30 ideas each for my other two blogs.
2) I'm not completely insane yet. Even if I started writing on May 15, writing 120 blog posts in six weeks on top of reading all the review books and all the other things I already do, just wasn't going to happen.
So after the headache went away and the rational side of my brain kicked in, I ended up with this: I will publish a post each day in June on this blog. I already have several ideas, and even have one post almost finished.  Book reviews (on which I am horribly behind) will fill in the remainder of the posts. I have more than 70 books in my review list. I won't get to all of those in June, but even so, I'd say about a quarter of those will need to go on my other blog. They'll get there as I get to them; no rush.
I have several topics for my Asperger's blog, so I'll post there once a week. I'm still working on topics for posts on the health blog. And if I get overwhelmed as the month goes on, I'll just focus on this blog. Quality over quantity. 🙂
If you have also lost your mind, and want to join me, you can still sign up here. Anyone who registers and makes it through all 30 days will be eligible for prizes. You can join (unofficially) at any time, but in order to be eligible for the prizes, you must register by 11 PM Eastern time on May 31.
There are a few optional theme days, but for the most part, your topics are completely up to you.
If you have questions, or just like Twitter chats, you can join the WordCount Twitter chat on Wednesday, May 29, at 1 PM Eastern. Use hashtag #blog2013 to follow the chat.