This review for The Old Schoolhouse Review Crew is probably the easiest I've written thus far. Book reviews are what I do. 😉 This particular book is part of the Church History series from Salem Ridge Press. I read The Martyr's Victory, but there are twelve titles in the series. All the books were written by Emma Leslie in the late 1800s. You can read more about the series (as opposed to the individual books) here.
Story Synopsis
Knowing full well they may die in the attempt, a small band of monks sets out to convert the savage Danes who have laid waste to the surrounding countryside year after year. The monks' faith is sorely tested as they face opposition from the angry Priest of Odin as well as doubts, sickness and starvation, but their leader, Osric, is unwavering in his attempts to share the "White Christ" with those who reject Him. Then the monks discover a young Christian woman who has escaped being sacrificed to the Danish gods—can she help reach those who had enslaved her and tried to kill her?



Story Setting:  Danish England in 879 – 883 A.D.
Notable People and Events:  King Edmund, King Guthrum, Viking Invasions
Originally published in 1886; 266 pages; For Ages 12 – Adult

The Martyr's Victory not only teaches us about church history using characters we care about, but teaches us biblical and life lessons, as well. Osric is admired for being firm in his faith, but we learn that even he is not perfect; he has failings, both as a human and as a monk. We learn, though that things, and people, are not always what they seem and trusting God and letting him lead the way is much less frustrating than trying to do things our own way. Don't misunderstand, Osric is a good man and a good leader. His unswerving faith leads an entire village of war-loving Vikings to take another look at the "White Christ" they have scorned for years.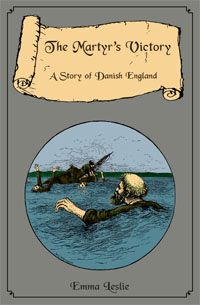 We see a hint of a "Jonah attitude" when a former Christian slave has problems with God saving those who had done her harm. Why should they, who had done all sorts of evil, receive the same promises as she, who had served God faithfully her whole life.
We learn that Christ's love and redemption are for everyone, and that quiet, steadfast faithfulness to God's Word is a better witness than screaming from the rooftops and telling people how horrible they are.
I love historical fiction, but I was concerned at first that, because it was written in the late 1800s, I may have trouble reading it. I don't like some books I have read from previous centuries because the text seemed stiff and formal. I had no such issues with this book. The speech is consistent with that of the time period in which it was set, and it can be a little confusing until you get used to it, but it's not enough to keep you from understanding what's going on. I did like that the more unfamiliar words were defined at the bottom of the page on which they appeared.
How to get it
You can buy the books individually using the links above, or can save 15% by purchasing the 6-book Early Church Set.
Softcover: $14.95
Hardcover: $24.95
6-Book Set Early Church Set: Softcover Set $74.54; Hardcover Set $124.75
Save 25% by purchasing the 12-Book Church History Set: Softcover Set $130.05; Hardcover Set $220.05