TouchMath is a multi-sensory math program for Pre-K through 2nd grade. It uses TouchPoints to help children connect an actual value to the numerals they see written. We used the Pre-K program. You can easily check out the other programs here:
TouchMath is a full math curriculum. Suggested usage is 4-5 days a week for 2-2 1/2 times your child's age. (So for a 4-year-old, you would spend 8-10 minutes a day.) The program is a download of Sequence of Skills (particular to that level), lesson plans, worksheets, and Progress Monitoring Records to make it easy to record your child's, well, progress in each unit. You also have the option of adding various manipulatives to your lessons. I'll tell you how we used some of them, and list all of them with links at the bottom of the page.
The Prek-K program includes, in part:
Count to 10 verbally

Understaning more, equal, and less
Comparing and classifying (long/short, heavy/light, etc.)
Sorting, Graphing, and Patterns
Identifying and Sorting 2-D shapes
Identifying 3-d shapes and coins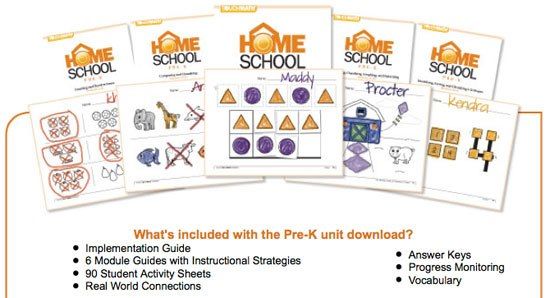 Shapes and numbers and fun stuff, oh my! We were fortunate to be able to use the Texture Cards, TouchShapes, and the 3D Numerals. We didn't use the program exactly as intended (no shock there if you've been around here a while), but I can tell you what we did do and that Bennett had a blast while he was learning.
I was a both pleasantly surprised and disappointed to realize that Bennett already knew most of the skills in the Pre-K program. Disappointed because we didn't get to use the program from the beginning to experience it. Well, we did. We just went through it very quickly for the most part, because he was losing patience with me. There is a page with sample pages from each level as well as a Scope and Sequence on the site. The Scope and Sequence will give you a pretty detailed idea of what's in each of the programs from Kindergarten – 2nd grade. Pre-K is not included on the Scope and Sequence, but the Pre-K program is a preparation for the skills needed in the Kindergarten level. My issue was that I didn't realize how much Bennett already knew. We have never done any kind of math program for him. Just normal, everyday stuff.
He did learn about 3D shapes (cones, spheres, etc) and coins. I was also happy to see that the 3D Numerals helped him gain a solid grasp of two digit numbers. Previously, 13 and 31 were the same thing. Now he understands that it matters which number is in front.
We didn't use the Texture Cards much during our lessons, but he got them out frequently on his own.
Overall, we loved this. I do wish I had been more aware and had requested the Kindergarten level for him. I think he would have gotten so much more from it. I'm happy with what he did learn, though, and now he can build on that. This program is fabulous for tactile learners. I also had to use a hands-on method for his letters, so I was sure this would be very helpful for him, and I was thrilled to see that I was right. (Because who doesn't enjoy being right?)
How to get it
The Pre-K program is $59.95. Links for the optional manipulatives appropriate for each level can be found at the bottom of each level's page. The three sets mentioned in this review are