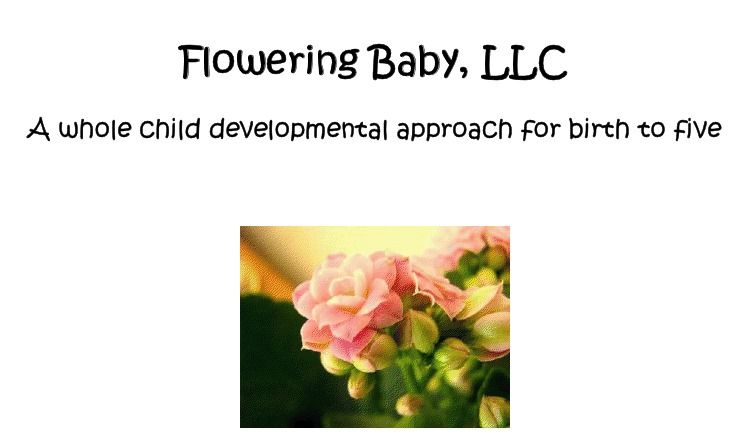 I'm excited to have the chance to review the preschool curriculum from
Flowering Baby
. We used the
Four to Five Years
level of  Flowering Baby , but there are five levels available:
You can find samples of each program at the bottom of the page after clicking on the links above.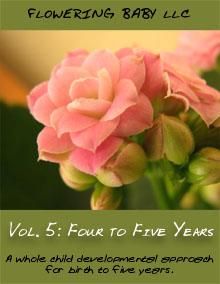 Flowering Baby is a full program meant for birth to five years that can be as structured or loose as you prefer. Lessons range from talking and dancing with your infant and activities to help develop his motor skills to preschool activities to learn basics such as numbers, letters, counting, weather, to practical life skills like basic Spanish (or any language you prefer), calling 911, learning his phone number, and sorting laundry or brushing his teeth on his own (well, maybe with a little help). The "lesson plans" are called "Guides" and they are just that. These are probably all activities that we would do come up with on our own to do with our children if we had nothing else to think about. In the real world however, we have a million things going on and we don't always think of these things. I liked that, even while being a loose guide, it reminded me to sit down with my son and try new things.
One of the ongoing concepts in Flowering Baby is music. Don't worry, they keep it simple. You just play music in the background during playtime or in the car. I'm not a big fan of classical music (horrible, I know, but I like words with my music) so we don't listen to it. At least we didn't. I used the iHeartRadio app on my phone, typed in Tchaikovsky on the custom playlist and let the app do the rest. We ended up with a variety of wordless stuff. 😉 I just let it play while we did our Flowering Baby lessons and left it on while he played. One day, I tried to turn it off so I could use my phone and I suddenly had a mutiny on my hands.  Who knew? And they wouldn't have had that experience without the suggestions in Flowering Baby.
He's loving the whole thing. I even asked him, rattling off parts of the program, wondering if he would either say he didn't like it or tell me he disliked a certain portion.
"Do you like the schoolwork we've been doing?"
"Yeah."
"The one with the music, and the letters, and the numbers, and the books, and the Spanish, and the dinosaurs, and the Artic?"
"Yeah."
There you go. Endorsed by the four-year-old. 😉
He won't write on paper yet – he prefers the whiteboard – but he's all into writing now. The number practice (for writing) goes up to ten. He's been asking me for several days if it's time for eleven, twelve, and thirteen yet. So today we did eleven, twelve, and thirteen, even though it's not technically part of the plan.
He asked me today, "What is today?" as he grabbed the whiteboard. "Um, it's Tuesday. Do you want me to write that down for you?" "Yeah." Except, after I wrote "Tuesday", it turned out that he wanted to know what today's letter was. I was working on something else and wasn't ready to start "school" yet. That didn't slow him down at all. He practiced his letter of the day and moved on to writing his name, my name ("Do you know what my name is?" "Yes. Mama."), and his brother's name.
The program also includes reading to your child, incorporating a wide variety of books including old favorites such as Curious George and Charlotte's Web. One section of the Four to Five program starts with you reading Three Billy Goats Gruff to your child. After a few readings, the child acts out the book. We haven't so much fun in ages. If you want a little taste of how a four-year-old and an eleven-year-old act out a classic, check out the first video. Both videos are just a little over a minute each.

We had to take a short intermission to repair the bridge. Trolls aren't known for their engineering skills, you know.

Because the guide is divided by month, there are also ideas for teaching about various holidays.
The three younger levels only have the monthly guide, but Three to Four and Four to Five also have Theme Curriculum Guides. There are suggestions for each month, but you can mix things up if you choose. We stuck with the suggestions, which were Dinosaurs, and Aquarium and Arctic Life for January, two things I already knew my son would love. The themes incorporate books and fun activities.
One of the activities in the Arctic theme was discuss "How would you dress in the Arctic?"
Bennett answered, "Pants, long sleeve shirt, socks, shoes, and a jacket with a hood." Says the kid from GA who has never experienced truly cold weather. I had to explain how many layers they really need in the Arctic.
As a relaxed homeschooler, I love how the program works even if you skip around or don't do every activity on every day. I think more structured homeschoolers would enjoy it, too. They could just follow the suggestions better than we did. 🙂 Even if you're not planning on homeschooling, but just want a good foundation for school, Flowering Baby is a fabulous, fun way to spend time with your child while she learns. (You might even learn a few things along the way!)
How Can You Get It?
By going to the Flowering Baby shopping page, of course. The first three levels are $30 each and the two higher levels are $38 each. You can get all five years in one package for $132.
You can get a 10% discount by using the coupon code Blog10 when ordering.

Disclaimer: I received a free copy of this product through the Schoolhouse Review Crew in exchange for my honest review. I was not required to write a positive review nor was I compensated in any other way. All opinions I have expressed are my own or those of my family. I am disclosing this in accordance with the FTC Regulations.