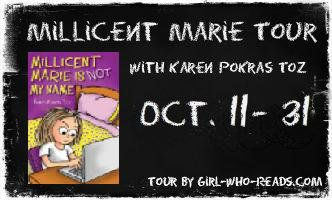 Summary:
Twelve-year-old Millicent Marie does not like her name. After all, she was named for a woman who died more than fifty years ago and was not the most loveable member of the Harris family. Her friends call her Millie, but when she writes in her diary she refers to herself as Amanda – the name she always wished she had.
When Millie's younger brother finds her diary on her computer, he decides to publish it as a blog for the entire world to see, including the boy Millie has a crush on. In the midst of all the mayhem, Millie/Amanda discovers she is suddenly Springside Elementary's most sought after sixth-grade mystery gossip and advice columnist.
But not all is fun and games, as Millie quickly learns, once she realizes feelings are at stake. Nobody, least of all Millie, expects things to turn out as they do in this tale of friendship and respect.
My review:
First, I'd like to thank Karen for using the best name ever for Millicent Marie's pseudonym. I'd love to take credit for being an inspiration, but we weren't friends yet when she wrote this book. *sigh* So I'll just have to settle for Millicent's opinion that Amanda is "sophisticated and regal-like".
Karen has an amazing way of getting into the mind of a middle-schooler. This is exactly how I remember feeling as a 13-year-old: scared, insecure, and trying to figure out yourself and the world. This book brings it all back. I'm not sure that's a good thing, but it does mean that Karen is a fabulous writer who is able to pull out real emotions.
This amazing book cuts to the heart of bullying: Scared and insecure kids hurting other scared and insecure kids to try to make themselves feel better. This is a book that kids will enjoy and identify with, but it's not to juvenile for parents to read. This would be a great book to read together to start a discussion about bullying and treating others the way you would like to be treated.
About the book:
Title: Millicent Marie Is Not My Name
Author: Karen Pokras Toz
Publisher: Grand Daisy Press
Release date: Sept 7, 2012
Pages: 162
Where I got the book: Free from the author in exchange for an honest review
Buy the book:
Amazon (print and ebook)
Barnes & Noble (print and ebook)
Where to find Karen:
Website
Blog
Facebook
Twitter
Goodreads
Amazon
The Giveaway:
Individual swag pack: bookmarks, sticker, notepad, magnet, keychain, & signed postcard
Grand Prize: swag pack plus tote bage, mug, and Amazon Gift Card
Follow the rest of the tour here.