I spotted this on my Twitter feed and I just had to check it out. (Good thing it wasn't a typing test. I originally typed the title of this as "How Fast Do You Reed?" because I had "feed" in my head at the same time.)

My results:
I read 552 words per minute, which is 121% faster than the average person.
At that rate, I could read:
Harry Potter and the Sorcerer's Stone in 2 hours and 19 minutes
Lord of the Rings in 14:27
Catch-22 in 5:16
Nineteen Eighty-Four in 2:41
Grapes of Wrath in 5:07
Last of the Mohicans in 4:24
War and Peace in 17:44
the Bible in 23:29 (that one totally blows my mind)
You can take the test by clicking the image below. Be sure to come back and share your results!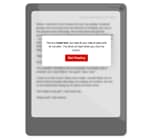 Source: Staples eReader Department